110W Semi-Flexible Solar Panel (R3-32F18.9V)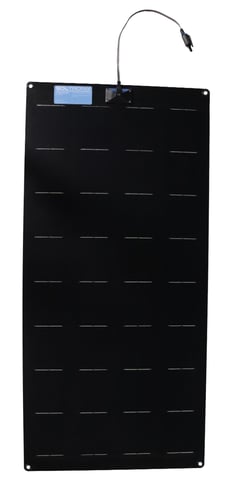 Specifications
Voltage: 19.3V

Current: 5.7A

Open Circuit Voltage: 22.8V

Short Circuit Current: 6.1A
Description
Important Notes
Specifications
How To Charge
Accessories
Where To Buy
Resources
The 110W Solar Panel brings together PowerFilm's 30 years in the solar industry with custom solutions using SunPower-designed monocrystalline (c-Si) solar cells.

Pair your 110W panel with the 10A Charge Controller to ensure safe charging.

Leveraging our deep expertise in custom encapsulations, varied substrates, and total electronics, the Soltronix 110 Watt Solar Panel provides unsurpassed efficiency delivering more power to your system.

What's included:

110W Solar Panel (R3-32F18.9V)

Best uses:

12V battery charging

Trolling motor, smartphone, fish finder, GPS, car, RV, lawnmower, ATV

Camp lighting

Benefits:

Rugged Encapsulation - protection from hot, humid environments, icing, water immersion, and saltwater spray.

Lightweight - weighs less than 6lbs.

High Efficiency - made with top of the line Sunpower crystalline solar cells.

Whole-Cell Design - reduces induced cracks and defects and maximizes power.

Cost-Effective - due to an ever-increasing scale, the cost of crystalline solar panels continues to drop, making it an affordable solar technology.

Pair your 110 Watt Solar Panel with the 10A Charge Controller to ensure safe charging.

If the panel is wet, wipe it down before storing it in a cool, dry environment.

All connections must be solar positive (red) to battery positive and solar negative (black or blue) to battery negative. Reversing can damage the solar panel. Consult your battery manufacturer if you have questions about the specifications of your battery.

Operating Voltage and Current are typical values when tested under load at AM 1.5 lighting conditions. Power performance may vary due to temperature, light spectrum, angle to the sun, and other effects (minimum 95% rated when new).

Power:

Rated Voltage at Pmax: 19.3V

Rated Current at Pmax: 5.7A

Open Circuit Voltage: 22.8V

Short Circuit Current: 6.1A

*Typical specs measured at STC. Contact PowerFilm for maximum specs and tolerances to use in custom designs or complex applications.

Physical:

Dimensions

44.5 x 20.9 x 0.1 (in) / 1,130.3 x 530.9 x 2.5 (mm)

Black fiberglass backing

Weight

Environmental:

Temperature Coefficient

Voltage: -1.8mV/C

Power: -0.32%/C

Temperature Range

Operating temperature -40°C to 85°C

Storage temperature -40°C to 85°C

Set the panel on the ground (or another surface) with the solar side facing up and pointing towards the sun.

Connect the solar panel to a SunSaver-10 (CC12V-10) to your solar panel and the charge controller to a 12V battery using the included 15 ft. Extension Cord with O-ring Connectors (RA-11) for charging and power storage.

Use the grommets on each corner and a tie cord to hold the panel in place and reduce loss or damage from high winds.

Connect the appropriate accessory and cable for the type of device you will be charging.

Electronics:

Connect the 12V Female Car Charger Adapter (RA-2) (not included) to the panel.

Use your own USB car charger adapter to connect your device to the RA-2, or use a 2.4A Dual USB 12V Adapter (RA-14B) (not included) to charge USB electronics.

Selecting a battery:

Soltronix Solar Panels are compatible with all 12V flooded lead-acid and AGM batteries (10Ah or larger are recommended) and many LiFePO and Li-ion batteries (consult battery manufacturer to confirm solar compatibility).