Semi-Flexible Solar Technology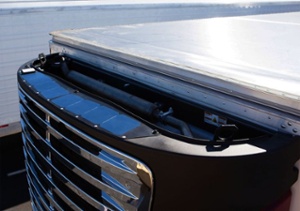 PowerFilm uses high-efficiency SunPower solar cells to better serve permanent and semi-permanent applications where power density, ruggedness, and cost are critical requirements.
Custom shapes and sizes range from 20-165W of solar. Panels can be connected in parallel to quickly create 1kW+ portable solar arrays.
With integrated charge controllers available, PowerFilm's semi-flexible crystalline solutions can connect directly to 12V, 24V, and other battery systems.
Features
High Power Density
22% Efficient SunPower solar cells
Customization
Power: 20-165W per panel

Size: Custom Cell Layouts and Panel Shapes Available
Cost-Effective
Lower price per watt than thin-film material
Integrated Charge Controller
12V and 24V lead-acid Battery Systems
Heat Dissipation
Copper Backplane Dissipates heat more effectively than standard c-Si PV cells.
Durability
Weather and UV Proof

MIL-STD-810-G
Semi-Flexibility
With our custom fiberglass backing panels can be flexed to a 3' diameter with no risk of degradation
Applications
The combination of ruggedness, power density, and cost make this technology well suited for trucking, rail, and vehicle applications.
Refrigeration Units

Telematics sensors and Gateways

Lift Gates

Trickle Chargers

Auxiliary Power Units
The rugged weather seal of PowerFilm's semi-flexible crystalline solutions makes them ideal for holding up to the extreme elements of a marine environment.
Battery Trickle Chargers

Trolling Motors

Boat Lifts

Dock Lights

Auxiliary Power
With a lightweight fiberglass substrate, this technology is lighter and easier to install than traditional rigid frame solar.
Auxiliary Power

Battery Maintainer
Portable Power
PowerFilm's crystalline technology can be designed in portable, compact configurations, ideal for higher power mobile applications.
Portable Base Power

Man-Portable Power