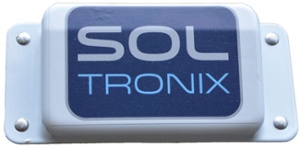 The PowerBoost charge controller, developed specifically for Soltronix: PowerFilm's semi-flexible crystalline (c-Si) (Soltronix branded) and Rollable/Foldable Flexible amorphous silicon (a-Si) panels, efficiently charges and maintains the health of lead-acid, Lithium-Ion, and other rechargeable battery systems.
The proprietary, integrated PowerBoost charge controller provides a steady, regulated output to the connected battery or device (some battery banks are not compatible with panels that feature a PowerBoost charge controller). Different variations are available for specific panel sizes, output voltages, or battery configurations. The PowerBoost is compatible with low voltage inputs, allowing smaller panels to be built with uncut cells. This maintains high conversion efficiency of over 22%, while the cut cells used in traditional panels may drop to 17% or lower. Using Fixed Power Point Tracking, the PowerBoost has the performance of an MPPT controller while being a more cost-effective solution. Our charge controllers are specifically designed for use with solar and will not overcharge and reduce the battery's life, a common problem with off-the-shelf PWM and MPPT three-stage charge controllers. (learn more about the different kinds of charge controllers).


Features
Battery Charging Features
Constant current / constant float voltage

Maintains battery at a safe Level

Prevents overcharging (unlike 3 stage charge controllers connected to solar)
Supports Multiple Battery Chemistries
Lead Acid

Lithium-Ion

Lithium Iron Phosphate
Supports Common Battery Voltages
6V, 12V, 24V.

Custom float voltages between 6-35V available. Can explore higher voltage options.
Compact Integrated Profile
2 x 3 x 1 Inch Approximate Dimensions
Protection
Reverse polarity

ESD resistance (AEC-Q101): human body model: class H3B: >8 kV

Reverse Leakage
High Conversion Efficiency
88-91% Efficiency is based on i.e. 45W 12V configuration. Efficiency will go down for small panel boosting to a higher voltage
Low EMI
Passes EN61000-6-1, EN55024, FCC 47CFR Part 15, CISPR 32, EN 55032, and ICES-003 Class B standards
Rugged Enclosure and Encapsulation
Salt fog per ASTM-B-117-73 5% for 500HR,

IP67

Shock 50G 6.3MS

Vibration per BS EN 60068-2-64:1993 (15.3GRMS)
Applications
When paired with PowerFilm's semi-flexible crystalline solar, the PowerBoost controller family is well suited to charge battery systems typically found on trucks, railcars, and vehicles.
Refrigerated Trucking

Auxiliary Power Units

Lift Gates

Telematics Systems
The heavy-duty enclosure and encapsulation are well suited for the harsh environments seen in marine applications.
Trickle Chargers

Trolling Motors

Auxiliary Power
Portable Power
The PowerBoost family ensures that you can efficiently extract and store solar energy for medium and high power applications.
Man-Portable Battery Charging

Base Station and Remote Battery Charging