PowerDrive Golf Car Solar Panels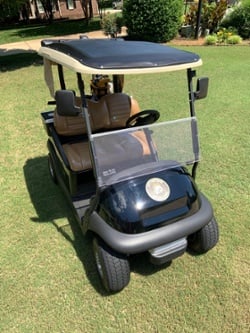 "Fantastic purchase for my 2018 Club CarPrecedent! I can play 36 holes of golf here in NC and still use the cart to visit the neighborhood. I also need to use the home charger less often, and when I do, it charges in half the time. I would highly recommend PowerFilm Solar to any golf cart owner."
- Dennis in North Carolina
"We purchased and installed a single test panel on one of our golf carts on April 23, 2021, and we didn't plug the cart into a wall charger until May 14, when the charge finally dropped to 50%. During the 3 weeks, we didn't charge it via outlet; it was kept outdoors and usually received great sunlight. It was driven quite a bit, up and down ramps, etc., and maintained a 75% charge or higher most of that time. Based on this success, we placed an order for 14 additional units in June 2021."
Randy Shingleton, Vice President of Facilities Las Vegas Conventions and Visitors Authority
PowerDrive Golf Car Solar Panel Benefits
Extended Battery Life - Extend charge cycles up to 50 percent.
Increase Driving Range - Increase driving range by as much as 50 percent.
Reduced Charging Costs - Save an estimated 20 percent in yearly electrical costs.
Environmental Advantages - Offset over 250 pounds of carbon dioxide production per year.
Easy Installation - Weighs less than ten pounds and installs quickly, with no special tools.
Learn more about the benefits of PowerDrive in this blog post: How To Solar Power Your Golf Cart The Easy Way
How to Install a 165W PowerDrive Golf Car Solar Panel
Let's make sure PowerDrive is going to work for your golf car.
Batteries
PowerDrive Golf Car Solar Panels are compatible with 48V and 36V lead-acid and 48V lithium drop-in replacement batteries.
If you have a different battery voltage, contact us.
Golf Car Make & Model
PowerDrive Panels are compatible with E-Z-GO TXT, E-Z-GO RXV, and Club Car Precedent golf cars. We carry a generic model to fit on various golf car canopies.
If you have a golf car canopy and aren't sure our solution will work for you, please take a photo of the canopy, record the canopy's dimensions, and contact us. We will happily confirm compatibility on our end.
Blog Posts
Learn more about the benefits of PowerDrive in this blog post: How To Solar Power Your Golf Cart The Easy Way