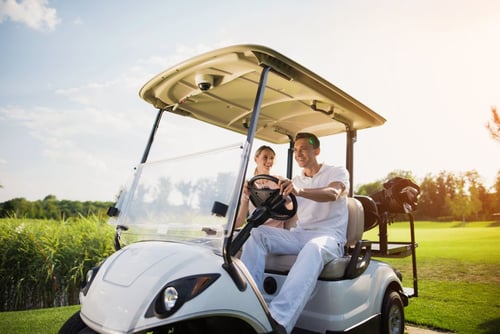 Now, more than ever before, golf courses are looking to cut costs, become more efficient, and lessen their impact on the environment.
Golf carts allow courses to turn more players per day and make the experience more enjoyable for many golfers who can't or wouldn't enjoy walking the course.
Electric golf cars took the positives from gas cars and left fossil fuel emission and noisy operation behind.
Golfers can drive around the course quickly and without excessively disturbing other players. The only downside? Batteries.
Electric golf cars rely on large batteries that will eventually run down and need to be charged. Additionally, after enough use, these batteries will become unusable and need to be replaced.
This is an annoying reality for the golf car owner and a serious purchase for a course that has a fleet of golf cars.
That's where we come in. By installing a solar panel on the existing roof of a golf car, you can drive up to 50% farther and keep the batteries in your golf car up to 50% longer.
Rather than having to replace a fleet's batteries every four years, you can now make the change every six years. Instead of having to charge cars during the day to keep up, you can leave available cars in the sun and they charge waiting for the next golfer. This opens up funds for the seemingly never-ending list of other repairs that a course superintendent needs to make.
As an added bonus, solar panels come with a sizable 26% Federal tax write-off good through 2022 and 22% for panels installed in 2023 (additional state rebates vary by location).
PowerDrive panels are sold in five variations to fit E-Z-GO TXT cars, Club Car Precedent models, a generic option to fit most other electric vehicles, and an extended top option for larger vehicles.
Need something different? Contact us and we can customize a solar panel to fit your exact specifications.
Blog Posts