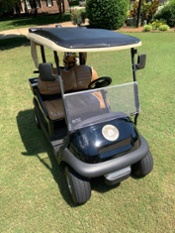 "Fantastic purchase for my 2018 Club Car Precedent! I can play 36 holes of golf here in NC and still use the cart to visit the neighborhood. I also need to use the home charger less often, and when I do, it charges in half the time. I would highly recommend PowerFilm Solar to any golf cart owner."
- Dennis in North Carolina
"We purchased and installed a single test panel on one of our golf carts on April 23, 2021, and we didn't plug the cart into a wall charger until May 14, when the charge finally dropped to 50%. During the 3 weeks, we didn't charge it via outlet; it was kept outdoors and usually received great sunlight. It was driven quite a bit, up and down ramps, etc., and maintained a 75% charge or higher most of that time. Based on this success, we placed an order for 14 additional units in June 2021."
Randy Shingleton, Vice President of Facilities Las Vegas Conventions and Visitors Authority
Extended Battery Life - Extend charge cycles up to 50 percent.
Increase Driving Range - Increase driving range by as much as 50 percent.
Reduced Charging Costs - Save an estimated 20 percent in yearly electrical costs.
Environmental Advantages - Offset over 250 pounds of carbon dioxide production per year.
Easy Installation - Weighs less than ten pounds and installs quickly, with no special tools.
Learn more about the benefits of PowerDrive in this blog post: How To Solar Power Your Golf Cart The Easy Way
Now, more than ever, golf courses are looking to cut costs, become more efficient, and lessen their environmental impact.
Golf carts allow courses to turn more players daily and make the experience more enjoyable for many golfers who can't or wouldn't enjoy walking the course.
Electric golf cars took the positives from gas cars and left fossil fuel emissions and noisy operations behind.
Golfers can drive around the course quickly and without excessively disturbing other players. The only downside? Batteries.
Electric golf cars rely on large batteries that will eventually run down and need to be charged. Additionally, these batteries will become unusable after enough use and need to be replaced.
This is an annoying reality for the golf car owner and a serious purchase for a course with a fleet of golf cars.
That's where we come in. By installing a solar panel on the existing roof of a golf car, you can drive up to 50% farther and keep the batteries in your golf car up to 50% longer.
Rather than replacing a fleet's batteries every four years, you can make the change every six years. Instead of charging cars during the day to keep up, you can leave available cars in the sun, and they charge waiting for the next golfer. This opens up funds for the seemingly never-ending list of repairs that a course superintendent needs.
As a bonus, solar panels come with a sizable 22% Federal tax write-off good for panels installed in 2023 (additional state rebates vary by location).
PowerDrive panels are sold in five variations to fit E-Z-GO TXT, E-Z-GO RXV cars, Club Car Precedent models, and a generic option to fit most other electric vehicles.
Need something different? Contact us, and we can customize a solar panel to fit your specifications.
Blog Posts