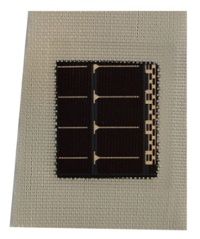 We have experience with hundreds of substrates, including a wide range of fabrics, metals, plastics, laminates, and fiberglass. A substrate can increase rigidity, prevent creasing, accommodate mounting hardware, or allow sub-panels to be combined into larger arrays. The right substrate material depends on the needs and requirements of your application.
Fabric
Our solar material can adhere to most fabrics, which readily take advantage of the thin/flexible nature of our amorphous silicon technology while providing a strong mounting structure for sewing, grommeting, or riveting. Fabric is a cost-effective substrate choice for wearable or portable applications that require a high power to weight ratio. When choosing a fabric for your application be sure to it meets the long-term requirements, such as UV stability, for your application.
Below are examples of suitable fabrics:
Polyester 200-1000 denier with DWR coating

Ripstop nylon 5 -12oz per yard, thermally stable LiteLoc performs the best

Acrylic Fabrics like Sunbrella

PVC and vinyl-coated fabrics from 7 - 30 oz per yard

Acrylic coated polyesters

Cotton Duck
Fabrics that we cannot bond to but can sew to include:
Teflon coated fabric

ETFE coated Fabrics

Silicon coated fabrics
*The fabric must be able to handle up to 150°C process temperature.
Metal
Aluminum, stainless steel, and other alloys can be a strong, durable structure for adhering a solar panel to and also incorporate mounting hardware well.
Fiberglass
Fiberglass provides a robust and durable structure for adhering to solar and incorporating mounting hardware. It can also be a cost-effective alternative to metal since many applications do not require a metal plate's high degree of strength. Fiberglass can also reduce design complexity as an insulator by allowing power to be routed on the substrate without insulating tape.
Plastics and Laminates
If a fabric or rigid substrate is not required, a wide range of laminate options can tailor the flexibility and durability of a panel to an application's exact needs.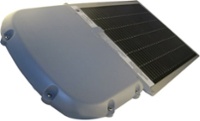 We can test any sample material you provide to see if we can properly adhere our solar thin film to it. We run a variety of tests, including a 'pull test' as the final determination of success.