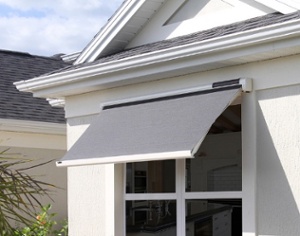 Challenge
Sol-Lux needed a powerful solar solution to operate their retractable awning with a custom footprint to match their design requirements. Sol-Lux also needed a solar technology to create enough power even while being in partially shaded environments. Finally, part of Sol-Lux's design required a connection no thicker than the solar panel itself (approximately .018 inches).
Approach
PowerFilm's amorphous silicon solar technology provided the ideal starting point with its industry-leading performance in low light and shade tolerance compared to other solar technologies. Amorphous silicon's inherent flexibility made it the best option to integrate into the awning design while adding almost no weight or bulk.
With a history of custom designs, including solar panels and associated electronics and connectors, PowerFilm was also able to suggest several options for a low-profile connector from the panel into the awning motor housing.
Solution
When a stock panel providing 5Wh per day wasn't sufficient for Sol-Lux, PowerFilm generated a custom solution producing about 6.7Wh per day. It met design requirements for footprint, curved mounting surface, and ultra-thin connection. The result of the custom build and close collaboration between PowerFilm and Sol-Lux is a smart window shade that helps save on energy costs.
Are you interested in a custom solution?
Contact us and tell us about your application.