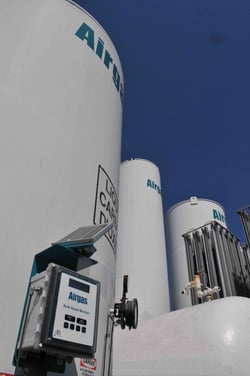 Challenge
Airgas (a subsidiary of Air Liquide) is an international industrial, medical, and specialty gases supplier. As part of their value proposition, they provide monitoring of storage tanks for industrial companies and hospitals, using a computer to alert the company when tanks need to refuel. Airgas was looking for a new solar design, preferably from a United States supplier, to replace what they had previously bought from China. Airgas required a specific voltage and a minimum current for their system to work correctly. Additionally, they needed an oil and gas industry-grade cable that was safe and reliable.
Approach
PowerFilm was the ideal partner since Airgas prioritized a US-based company and wanted a solution that would be designed and produced in the United States. After learning about their specific needs, PowerFilm suggested a custom flexible amorphous silicon panel. PowerFilm also suggested using a double jacketed cable with a silicone filler that protects against arcs should the line become cut or nicked. This panel would meet their voltage and current requirements. It would outperform their previous solar panel in their current orientation and allow Airgas the flexibility to eliminate their mounting mechanism, given that the flexible board could adhere to the side of tanks.
Solution
Airgas needed a quality product that was reliable and readily available. PowerFilm listened to their needs and provided the right panel and cabling while creating the solution entirely in the United States. After prototypes were released to Airgas, they field-tested the units, and after passing all field tests, the new design was cleared for production quantities. PowerFilm was able to work with Airgas through the design, prototyping, and eventual production phases of this new product to ensure its success.
Are you interested in a custom solution?
Contact us and tell us about your application.