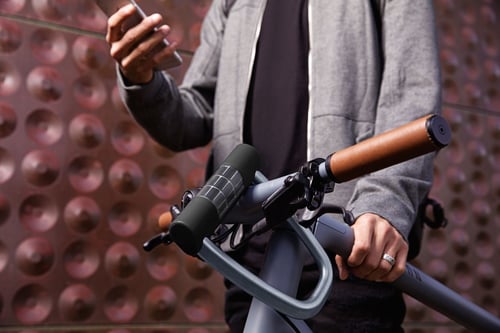 Challenge
Lattis wanted to improve a product that arguably hadn't been innovated since its inception -- the bike lock. For years the bike lock was a large, cumbersome device that served a single purpose, keeping things secure with varying degrees of success.
With the advent of the Internet of Things and consumers carrying incredibly powerful computers in their pockets (smartphones), Lattis identified the opportunity to create a smart bike lock, the Ellipse. The Ellipse features theft reporting, notifications if a friend using the device was involved in a crash, and many other features.
To ensure the lock could achieve its full potential continuous charging and power consumption were vitally important in the design process. Lattis wanted to make their smart lock battery last as long as possible, freeing consumers from worrying about battery life and running the risk of the lock dying, rendering it useless.
Lattis needed an inherently flexible solar panel conforming to their curved design. Additionally, it was important that the solar wouldn't distract from the overall cosmetic appeal and industrial design of the Ellipse. They also needed a panel to harvest energy from any outdoor location, often in the shade and not directly facing the sun.
Approach
After consulting with PowerFilm to create a solution, amorphous silicon was selected to fulfill their design and energy requirements.
Solution
PowerFilm provided an Electronic Component Solar Panel designed to fit Lattis' unique needs. This panel fits their form factor and creates the necessary power to keep the Ellipse active for years. PowerFilm collaborated on design requirements and provided rapid prototyping, enabling the Ellipse to get to market quickly and with a product consumers love.
Are you interested in a custom solution?
Contact us and tell us about your application.