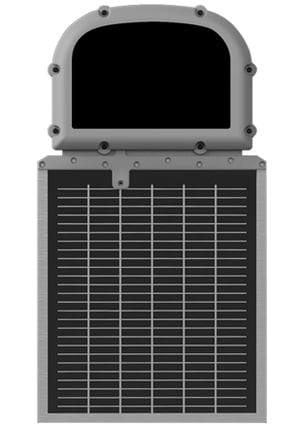 Challenge
When the leading manufacturer of asset tracking equipment approached PowerFilm, they needed to create a reliable solar-powered semi-trailer monitoring product. The vehicle tracking system required solar panels that were extremely durable, capable of surviving years of power washing, snow, hail, and bird droppings. The solar panels also had to be extremely thin, lightweight, and be integrated with the system's electronics. The vehicle tracking computer system used GPS, cellular data networks, wireless sensors and needed a solar power solution at a specific voltage that worked well in all weather conditions.
Approach
PowerFilm worked with the customer to design an appropriate case and mounting system and the solar module to power their instruments. The end product contains the electronics, battery, and solar module. It lies very flat on the top of the trailer.
Solution
PowerFilm's custom designs provide the specific power, form factor, and durability needed to track any asset, whether transported in a semi-trailer, a cargo container, or a rail car. Thousands of these units are now in the field monitoring different assets worldwide.
Are you interested in a custom solution?
Contact us and tell us about your application.